Primary Education in Ireland (age 4-6 up until 12)
Children must start school by age six, but many children are enrolled the first September after their fourth birthday. Primary school is broken down into eight grades: Junior Infants, Senior Infants, and First through Sixth Class. The curriculum includes English, Irish, Maths, physical education (P.E.), in addition to environmental and health classes.
The vast majority of primary schools in Ireland are known as National Schools. While many schools are government funded, they are operated under the patronage of religious denominations, 90% of which are Catholic. This is changing thanks to diversity of the growing population.
An influx of immigrants – 17% of the population were born abroad – has swelled the number of non-Catholics. This has contributed to the government removing the so-called "baptism-barrier" in schools, which saw baptised, Catholic children getting priority over those who were not baptised or Catholic.
Even in religious schools, the curriculum is set by the Department of Education and Skills, so a school's patronage has no effect on its science classes, for example.
There are also a growing number of Educate Together schools, which have no religious affiliation. While some parents send their children to Gaelscoils where subjects are taught through the Irish language and others may choose to send their children to private, fee-paying Preparatory Schools.
The school day varies but is generally 9am-3pm, though the day may be shorter for Junior and Senior Infants. School starts in September and closes for July and August, with a two-week break at Christmas and shorter mid-term breaks in October, February and at Easter.
Secondary Education in Ireland (age 12 up to 17-18)
Secondary education is generally attended between the ages of 12 and 18. It is broken down into the three-year Junior Cycle (age 12-15) and the two-year Senior Cycle (age 16-18). Each of these cycles ends in a set of state exams, called the Junior Certificate and Leaving Certificate.
Students study 9 or 10 subjects for the Junior Certificate and 6 or 7 subjects for the Leaving Certificate. Places for university and college courses are based on grades received for the Leaving Certificate exams. Secondary school students take a combination of compulsory subjects (English, Irish and Math) and optional subjects (French/German or other languages, History, Geography, Music, Business, Art, Technology, Wood/Metal work, Home Economics and more).
Many schools offer an optional Transition Year between the Junior and Senior cycles. This is a less formal year without exams and is usually a chance for students to try a wider range of subjects and complete some work experience.
The school day in Ireland varies but is generally 9am-4pm. School starts in September and closes for June, July and August (though state exams are held for 2-3 weeks in June for 3rd and 6th year students). There are usually 2 weeks holidays at Christmas and shorter midterm breaks in October, February and at Easter.
Irish Language Exemption
Generally, children must study the Irish language in primary and secondary school, but there are certain cases where an exemption is granted.
Students who were educated outside of Ireland up until 11 years of age.
Students returning to school in Ireland after at least 3 years abroad who are at least 11 years old.
Students who have a learning disability that prevents them from reaching expected attainment levels in their native language.
A written application for exemption should be made to the school principal on behalf of your child.
Special Educational Requirements
Children with special educational needs still attend mainstream school, and either take special classes within that school or have additional assistance within mainstream classes. There are also special schools around the country for children with mild, moderate or high-level learning disabilities. There are some schools for children with visual and hearing impairments and a small number of schools for children with physical disabilities. See the National Council for Special Education website for more information.
Applying for Schools
The Department of Education's "Find A School" feature allows you to search for schools based on your area. After selecting a school in Ireland, it's best to apply as early as possible as there may be a waiting list. You can contact a school directly for an enrolment form and their admissions policy.
Priority is generally given to children within the immediate area of the school, but when there are more applicants than spaces in a school, a selection process may be used. The selection process will be explained in the policy. In the case of secondary schools, priority may be given to students from particular primary schools.
Universities, Colleges and Institutes of Technology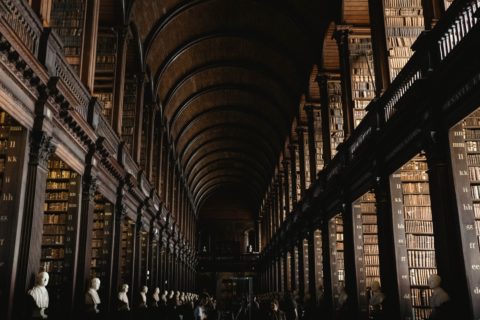 Ireland boasts 34 Higher Education Institutes, including 7 Universities and 14 Institutes of Technology, with 9 placing in the top 5% internationally, according to the Times World University Rankings 2015. Tuition is free for undergraduate students from Ireland, the EEA (members of the EU, Iceland, Lichtenstein and Norway) and Switzerland. These students may also apply for a number of maintenance grants and scholarships.
Many institutes do require a Student Contribution fee to cover registration, insurance and exams, which can be up to €3,000 for Universities. For non-EEA students, fees vary by institution. Entrance to most forms of higher education is through the Central Admissions Office (CAO) and is generally based on points earned in the Leaving Certificate state examinations, taken in the final year of secondary school.
Postgraduate Education
If you're interested in furthering your education in Ireland, there are plenty of opportunities to undertake both taught and research-based Masters and PhD courses. Many postgraduate courses can be completed part-time, meaning you can continue working while you study. For a guide to the courses available, you can view these on the PostGradIreland website.
Third Level Fees in Ireland
Fees vary depending on the institution, the course and whether you're applying as an EEA or non-EEA citizen. For Irish, EU and EEA students, postgraduate tuition fees in technology courses are generally between €5k-10k. For students from outside the EEA, tuition fees are typically between €10k-19k.
Funding
If you have been working or studying in Ireland or the EU for three of the five years prior to beginning a course, you may be eligible to apply for funding through the government's Student Grant Scheme.
Some employers encourage continued education and may even reimburse or contribute to your tuition fees, particularly if the qualification is relevant to your role in the company. You may want to discuss your study plans with your employer and see what opportunities are available.
You can also claim tax relief at a rate of 20% for tuition fees you pay towards postgraduate courses. It's important to keep receipts for tuition payments.
How to Apply for College and University in Ireland
Applying for postgraduate education at colleges and universities in Ireland is a simple process. Generally, you can contact the International Office of your chosen institute, although a number of institutes prefer that potential students apply through the Postgraduate Applications Centre website. You will usually be asked to provide proof of residency and evidence of previous qualifications, such as a diploma or transcripts.